The Star Wars prequels were hugely anticipated and led to some disappointment (and even anger) from fans. We're revisiting the second entry in our Attack of the Clones review.
Even after the general disappointment that surrounded The Phantom Menace, there was still huge anticipation and expectation around its follow-up, Star Wars: Episode II – Attack of the Clones. Picking up 10 years after The Phantom Menace, we meet a young adult Anakin Skywalker. The film charts his character journey, through falling in love to beginning his descent to the Dark Side, to ultimately become Darth Vader.
Attack of the Clones deserves some praise for its advancement of CGI visual effects. As one of the first major features to be shot digitally, it pushed the boundaries of blockbuster filmmaking. It has also came in for lots of criticism over the years. Derided for dull direction, paper thin character writing, and wooden acting, the film is, for many, among the worst entries in the Star Wars series. Matt, Westy, and John are revisiting it revisiting now to see if those criticisms hold up. Watch our Attack of the Clones review below.
---
Subscribe to our YouTube channel
---
---
---
About the episode
Our Attack of the Clones review dives into the film and analyses its main creative parts. We discuss George Lucas as the director. to see how well he realised his creative vision. We're back with Lucas (and his writing partner Jonathan Hales) to dissect the screenplay. We then talk in detail about the three main cast members. Hayden Christensen as Anakin Skywalker came in for a lot of criticism at the time. Matt talks (at length) about why that criticism was, and still is, deserved. John talks about Natalie Portman, the only cast member to come out of this relatively unscathed. And Westy lambasts Ewan McGregor as Obi-Wan kenobi for an, "atrocious… career low performance."
We then each discuss our highlights from the film. It was slim pickings. Matt talks about Obi-Wan's investigation subplot. John tries to find some some good points in the Battle of Geonosis sequence. And Westy slams the climactic lightsaber fight as, "making the film even worse."
All this and more delivered with the standard ATRM big laughs and opinions along the way.
Watch the full video above of our Attack of the Clones review. If you like what you see, please visit our YouTube channel to subscribe, share, comment and like.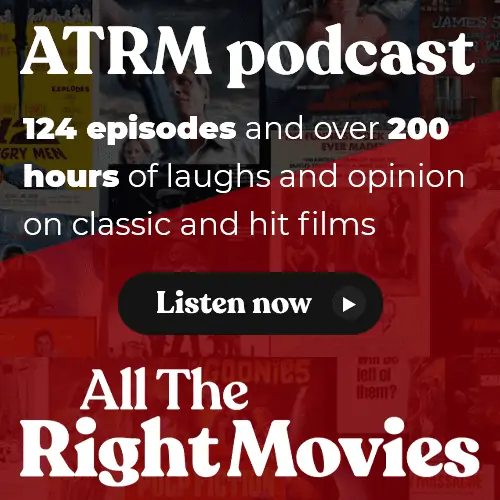 The beginning of a beautiful friendship
Stay up-to-date with all things All The Right Movies by signing up for our e-newsletter.