Aliens is acclaimed as one of the great action movies, one of the best ever movie sequels, and possibly James Cameron's greatest film. We're telling the behind the scenes story with big laughs and opinions along the way in our Aliens review.
Aliens was released in 1986 under weight of expectation. Following on from Ridley Scott's science fiction/horror classic Alien (1979), writer-director James Cameron switched genres to action, developed the world and narrative, and created a movie acclaimed as one of the greatest film sequels of all time.
Acclaimed as a masterclass in practical visual effects work, Aliens had a very talented crew behind the scenes. Stan Winston, Syd Mead and the Skotak brothers all brought fantastic work. And it wouldn't be a James Cameron production without behind the scenes problems. The British crew and Cameron did not get on, leading to major fallouts and firings. We're telling the full story.
---
Subscribe to our YouTube channel
---
---
About the episode
Our Aliens review tells the tale of a film with one of the most interesting making of stories, all delivered with typical ATRM opinions, insight and humour.
We talk about James Cameron as the writer and director of Aliens. He had a hard task following up on a stone cold classic. And production was fraught with many problems, resulting in on-set arguments and fallouts. In the cast section, we talk about Sigourney Weaver as the main character, Lt. Ellen Ripley. We also talk about two secondary cast members in Michael Biehn (Cpl. Hicks) and Lance Henriksen (android Bishop). Then, as our highlights, we talk about three examples of action masterclasses. Westy talks about the intense, chaotic moment the marines enter the Alien nest. John gives some insight into the creation of the MedLab scene, where Ripley and Newt are trapped with a Facehugger. Finally, Matt talks in detail about the huge climactic showdown between Ripley and the Alien Queen.
Watch the whole episode above of our Aliens review. If you like what you see, please visit our YouTube channel to subscribe, share, comment and like.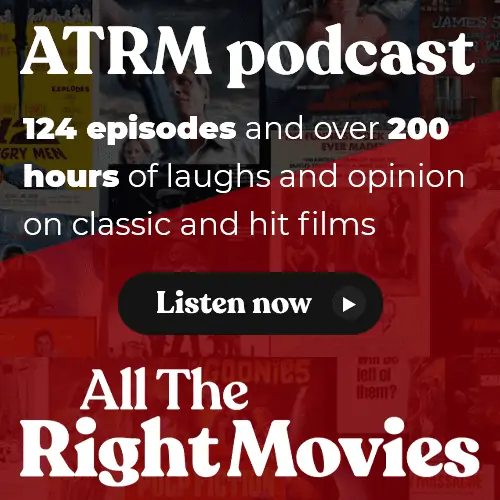 The beginning of a beautiful friendship
Stay up-to-date with all things All The Right Movies by signing up for our e-newsletter.